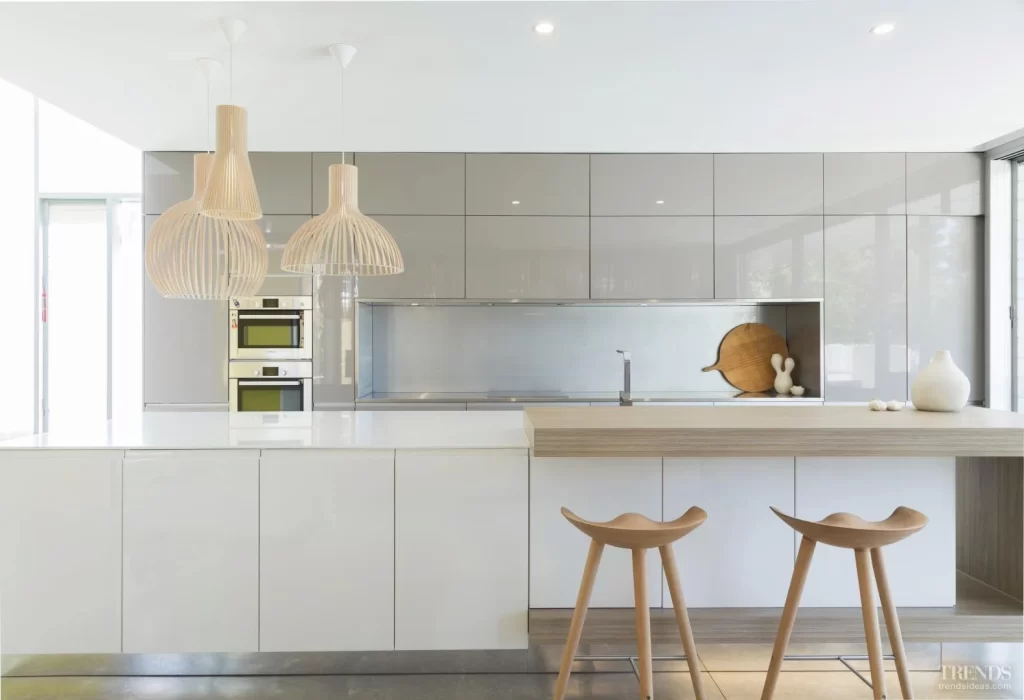 Minimalist kitchen design combines a modern, sleek style with a traditional aesthetic. The color palette is neutral, dominated by white, but you can add statement pieces. These pieces should compliment the overall design of the kitchen, but not overpower it. Adding a pendant light or other decorative element can make the space stand out without being overbearing.
A minimalist kitchen looks clean and airy with the use of light-colored paint and wood finishes. However, for those who like more drama in their kitchen, a dark wood finish is a good choice. In this kitchen designed by Camille Styles, she contrasts a matte black peninsula with white walls and a vintage glass pendant light.
To add a touch of luxury to a minimalist kitchen, consider using marble or stone tiles. Both of these materials are slip-resistant, easy to clean, and are versatile enough to serve a variety of functions. Marble tiles can be used for the worktops and the backsplash, and can be paired with a minimalistic theme to create a unique and interesting visual element.
The appliances used in your kitchen will also impact the overall design of the minimalist kitchen. If you're looking for a timeless design, stainless steel is a good choice, as it reflects light and brightens up the space. You can also use white and clear glassware to highlight the minimalist feel. Additionally, open shelves are a good idea for creating a minimalistic aesthetic.
If you're trying to avoid using wood or other wood, consider using a natural stone such as granite. Natural stone such as granite is both durable and easy to maintain. You can also choose to use black granite floors. These floors can work in any room in the house. A black granite countertop will complement the kitchen's featureless look without overshadowing it.
Another way to achieve a minimalist look is by incorporating more functional furniture. You can include functional drawers for small items and decorative pieces. This way, you can make your kitchen much more functional. In addition, you can also add a floating shelf or two as extra storage space. Subway tiles can also be a practical solution for a minimalist kitchen design.
A kitchen island can also add to the minimalist appeal of your space. However, it is important to consider the size of the island and how much space you'll need around it. A kitchen island should have about 42 inches of space around it. You should also consider whether you want to have a seat area under the island. It's also essential to have enough space for cabinets and shelves.
If you're trying to save space, you should consider a minimalist kitchen design. A minimalist kitchen can be colorful and narrow, but it doesn't have to be all white. A minimalist kitchen can also include exposed wood beams and a window to the outdoors. A minimalist kitchen doesn't mean that you can't have an eat-in kitchen. A minimalist kitchen can also be open to the outside, with simple colors hiding clutter.