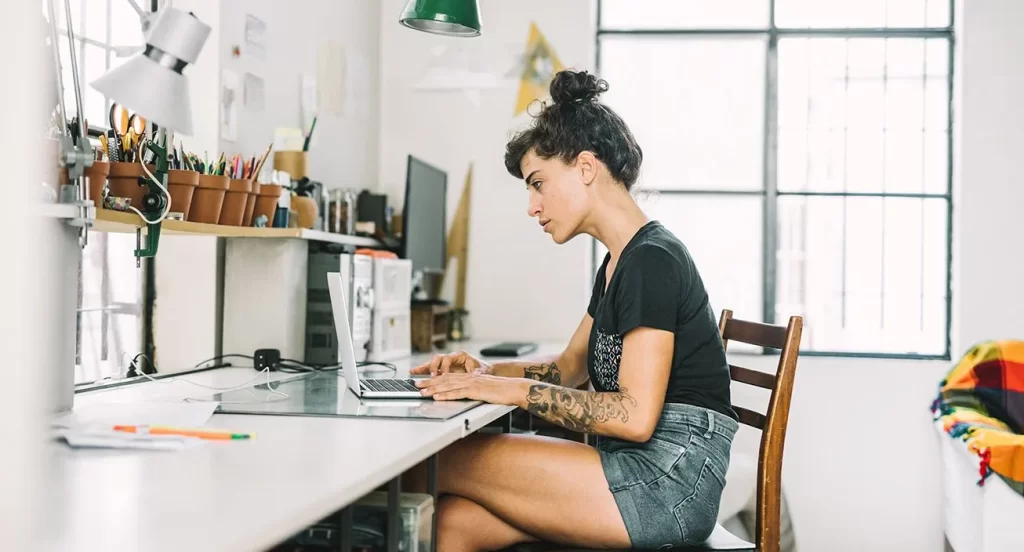 If you're on a budget, there are a few ideas you can use to create a home office space that will not break the bank. From plants and lighting to co-ordinating stand-alone furniture, you'll be able to get the look you want in no time.
Plants
If you're looking to improve your office space on a budget, consider adding plants to your work area. Not only do they give a clean and fresh look to your cubicle, but they can help purify the air.
Most common office plants require very little care. Some only need to be watered occasionally. Others can thrive in low light.
If you're short on space, try using a small table-top plant. These are easy to grow and add a fun splash of color to your workspace. They can be purchased for a few dollars.
Sansevierias, also known as snake plants, have big decorative leaves that look great in any modern office. They are very adaptable and can tolerate low light and a variety of temperatures.
Peace Lilies are one of the most popular office plants, as they have simple white flowers that don't need much light to grow. In addition, they purify the air and store water in their roots. This means they'll last longer than cut flowers, so you won't have to worry about replacing them every week.
Furniture that complements the rest of your home
Whether you are a dedicated workaholic or just need a place to get some serious writing done, a home office can be a fun and rewarding experience. However, not all homes are created equal, and some may be lacking in the features necessary to make a good work environment. Fortunately, there is a wide selection of furniture that complements your home.
One of the most important elements of any home office is the layout. You want your workspace to be a well thought out and organized space. This means you need to think about the size and shape of your workspace, as well as the furnishings and accessories that will be necessary to make it a success.
In addition to the usual suspects, you should also consider adding some plants to improve air quality. A nice plant can add to the mood and improve overall decor.
Co-ordinating stand-alone furniture and accessories for a cohesive feel
Creating an epic home office is the rite of passage for many a working stiff. A well crafted work space can be akin to a sanctuary. A little planning, a little know how and a pinch of creativity will get you on your way to a well deserved break. However, if you are on a budget you have to be a bit more frugal. Luckily, this does not have to mean a downright disastrous experience. If you are looking for a worthy adversary, check out your local furniture retailer. You may be surprised at the results. For example, your local CORT Furniture Outlet is the place to shop for all things office and workplace related. Be sure to check out the site's online catalog as well as their in-store displays.
Organize
Having an organized home office is essential for both work and life. It improves your focus and makes your workspace clutter-free. You don't have to break the bank to get started.
For starters, you'll need a decent amount of table and storage space. This will allow you to store files and accessories. If you want to get creative, you can also use containers with attractive lids to keep your stuff neat.
Keep in mind that the best way to organize your home office is by clustering the most important items. This will ensure that you aren't constantly searching for something.
To make things simpler, you may have to move things around. But don't be afraid to try new solutions if your current ones don't seem to be working.
Lighting
Home offices need to have good lighting, as it can help increase comfort and productivity. It can also reduce headaches and eyestrain. But lighting is not the only important factor when it comes to home offices. You also need to consider how to design it.
First, choose a style for your room. If you're working with a budget, you might want to opt for LED bulbs instead of incandescent ones. These are more energy efficient, and the bulbs last longer. Alternatively, you can choose to purchase an LED light strip.
For the best lighting, choose a lamp with a dimmer switch. This allows you to adjust the level of light, depending on the activity you're doing.
Also, if you have a lot of windows in your home office, try installing glass pendant lights. They don't obstruct your view and can provide useful task lighting even in the dark.